We are committed to shared growth and community engagement which, for us, means having a positive impact on society and delivering shareholder value. In recognising the critical link that exists between our success and society's progress, we seek to deliberately apply our substantial resources to address key societal challenges and unlock socio economic solutions through innovative programmes, commercial products, services and partnerships. In order to do so we are focusing on the following three areas.
Bright Minds
Giving the 'bright minds' in our country an opportunity for a greater future. Bright Minds aims to provide students with great academic potential from difficult social and financial backgrounds the opportunity to complete their tertiary studies. Our goal is to improve access to quality education. We provide skills development to support employability and self-employability, and we facilitate access to quality education to deepen knowledge and build skills for the next generation.
Absa financed the tertiary education of 40 scholars from 2016 to 2018 and some Bright Minds benefitted from a monthly stipend to ease their spending, a laptop and internet connection to facilitate their studies. An internship programme within Absa was offered to Bright Minds to familiarise them to the workplace and enhance their soft skills. Since our Bright Minds comes from difficult backgrounds, a mentorship initiative was put in place where Absa colleagues guided our Bright Minds through their educational journey and personal life.
In 2020, a tailor-made leadership programme was introduced to groom our Bright Minds to enter the job place. The programme focused on topics like communication skills, time management, assertiveness and many more. One to one mentoring sessions were also conducted to better understand the needs of our Bright Minds. By end 2020, most Bright Minds have secured a job. A certificate award ceremony was held in October 2021 to honour our Bright Minds and our commitment in bringing possibilities to life.
Bright Minds testimonials
Our Bright Minds, Namrata, Deerish and Priyanka tell us more about the leadership programme
Bright Minds awards ceremony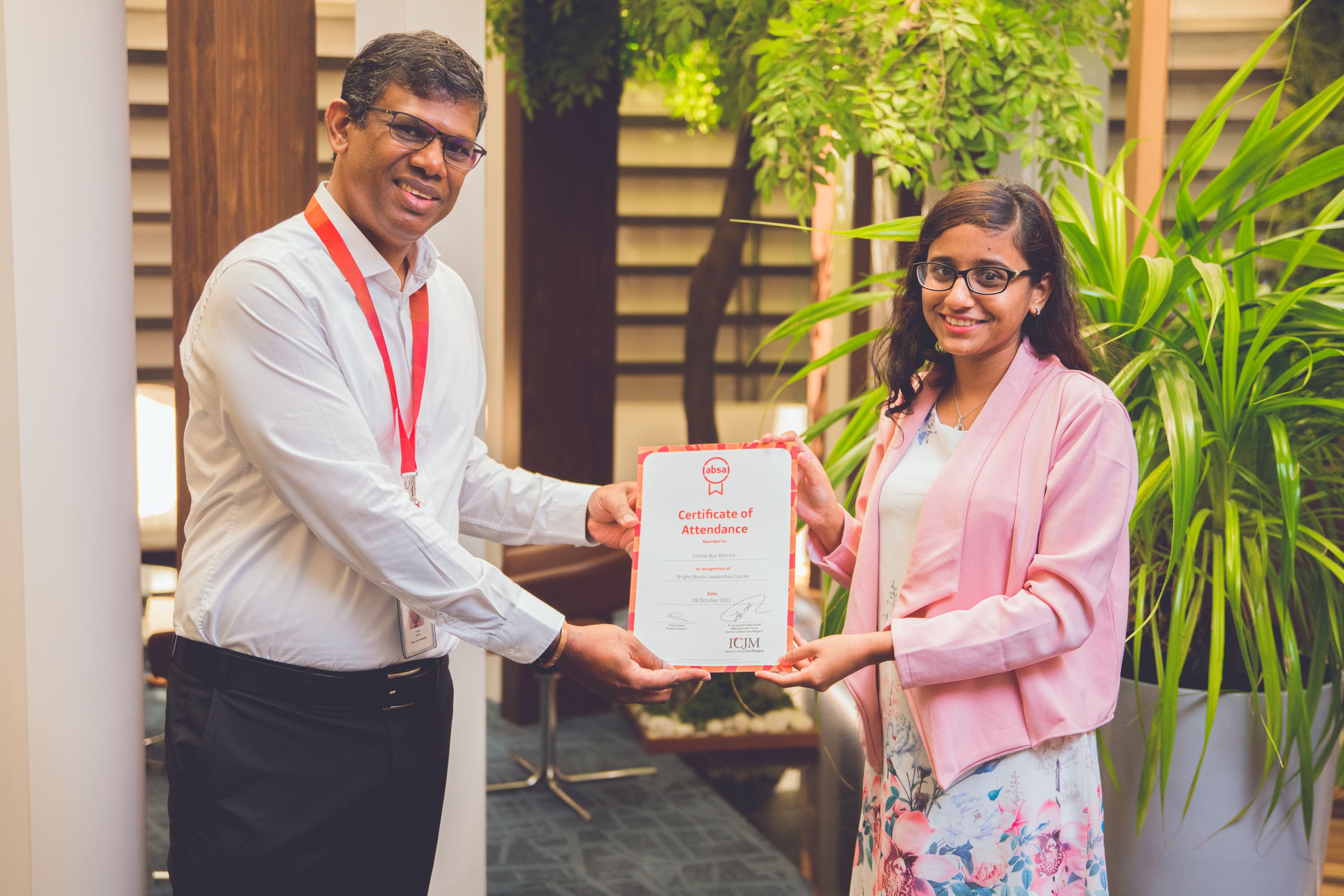 ReadytoWork
This initiative helps young people develop their employability skills for a smooth transition from education to the world of work. It offers the work, people, money and entrepreneurial skills needed to improve employment or self-employment prospects.
Components of ReadytoWork
Dedicated online platform
Online assessment
Exposure to subject matter specialists
Access to corporate experience sharing and entrepreneurial support
Workplace exposure through Absa and our partners
Introduction to potential employers at end of programme
The curriculum focusses on Money skills which ensures efficient spending and budget preparation, Entrepreneurial Skills lays emphasis of setting up businesses, Work Skills which provides a step by step to build your perfect CV and getting your dreamed job and People Skills which allows you to develop effective communication while understanding emotional intelligence.
Women Forward
Building a better tomorrow together
At Absa Bank (Mauritius) Limited, we remain committed to playing an active role in the communities in which we operate and seek ways to improve people's lives and strengthen communities while creating value for shareholders. We will continue to develop solutions to societal challenges through innovative products, services and partnerships with a primary focus on entrepreneurship and enabling employment for the next generation.
Selected women will avail of a free training and development programme, deemed to help them get back on their feet, reach new markets, and gain access to the support, funding and resources they need.

We have lived an unprecedented year as well as our businesses due to the pandemic. The small and medium business sector have been severely impacted and within that segment women entrepreneurs are known to have taken a bigger blow. Thus, Absa Mauritius joined forces with Future Females Foundation to launch the Absa Women Forward Programme whose aim is to help women entrepreneurs impacted by Covid 19 in reinventing and growing their businesses.
Selected women are availing of a free training and development programme, deeming to help them get back on their feet, reach new markets, and gain access to the support, funding and resources they need.
The structure of the training and development programme is as follows:
A free 6-month comprehensive training and development programme.
An additional 6 months whereby we will continue to accompany these women.
1-2-1 coaching sessions that go beyond simple business concepts and rather focus on actual needs and challenges.
A peer-to-peer learning environment, supporting women entrepreneurs to grow their businesses.
Regular workshops that will help grow their businesses.
Support to access the funding they need to grow and scale.
Opportunity to meet and connect with leading innovators.
Access to industry experts.
Being part of the Future Females Foundation community of female founders, investors and funders.
Broadening of their network locally and in Africa.
Applications are closed and we are currently providing training and development programme to women entrepreneurs who have onboarded the programme.
Elev8 - turning your creativity into a commercially viable project
We offer innovative financial solutions and business development support services to small and medium businesses to nurture the entrepreneurs of tomorrow. Helping small and medium-sized businesses succeed and grow. Elev8 is a strategy to create Shared Growth by helping small businesses and aspiring entrepreneurs to shape their business ideas into success stories.
Absa Academy developing entrepreneurs and leaders of the future
Our aim is to provide education to female entrepreneurs in Mauritius ensuring that they are provided with the skills required to succeed in business. The Absa Academy is fully aligned with Government policy in Mauritius to support the growth of SMEs.
In 2015, the Academy team partnered with Women in Networking and Association des Femmes Chefs d'Entreprises Mauricienne to provide key business skills to 50 female entrepreneurs in Mauritius.
Two half day practical workshops were delivered by our colleagues.
Colours of life recognises the work of NGOs
This is a national competition launched by Absa Mauritius in 2013. It aims at recognising the selfless work and immense contribution of NGOs in Mauritius and Rodrigues and providing continuous support to vulnerable groups.
Absa Colours of Life Awards
In 2020, the below 12 projects were realised through the support of Absa:


Aquaponics at Southern Handicapped Association
The NGO was the first NGO to have implemented the aquaponic project to help the organisation in its journey towards financially independence and to promote a healthy method of production.


Assocaition Kinouété
Absa funded the employability project of detainees through set up of micro businesses. Trainings in cooking, bakery, catering and in mechanics were offered to the inmates to help them to set up the micro businesses.


Fraternité Mauricienne des Malades et Handicapés (FMMH)
Through absa's support, the NGO provided counselling services to 54 children with disabilities and conducted prevocational activities to improve their autonomy. The funds also enabled the provision of tailor-made modifiable wheelchairs 10 beneficiaries.


Kolektif Rivier Nwar
The NGO implemented the project Musik dn la Po to help 93 adolescents to discover their singing talents and at the same time encourage them to demonstrate their skills. These children group and spend time together. The aim is to prevent these teenagers from getting involved in social ills.


La Courte Echelles du Nord
A sensory room was constructed to help 24 children with special needs through therapeutic sessions. The room has been decorated with paintings, lightings and with other accessories to make it appealing and thus having a positive mindset on the children and calm hyperactive and autistic beneficiaries.


Mouvement d'Aide à la Maternité
Absa funded the Maman Soleil project to support mothers during pregnancy and after childbirth. Trainings and sessions carried out to help young mothers to facilitate their motherhood and provide a good upbringing to their children while striking a balance between their working and personal life.


Fédération des Maisons Familiales Rurales
A socio-professional training was implemented where the 184 youngsters undergo training in automotive mechanics, hairstyling, organic agriculture, cooking and catering. As a result, several youngsters were able to be employed in different sectors they did trainings.


SOS Femmes
Absa enabled awareness sessions to help in the fight against violence towards women. On the occasion of International World Women Day, the NGO implemented the project of printing out of the flyers "Violence domestique: Ensemble nous disons NON!"


T1 Diams
Through Absa's Funding, the NGO was able to carryout several therapeutic sessions on nutrition to 600 beneficiaries, provide access to specialist health care and medical support to 279 people suffering from T1 Diabetes. 1680 students and school staffs were sensitized in T1 Diabetes issues. The NGO is continuing its campaign on creating awareness and advocating for people living with T1 Diabetes through social media.


Association de Parents d'Enfants Inadaptés de L'Ile Maurice (APEIM)
The funding allowed the NGO to provide vocational and rehabilitation services to young adults with moderate to severe intellectual disability. 110 man and women along with 200 parents benefit from this workshop. In addition, a new Laundry Workshop was installed in APEIM Curepipe and a pastry Workshop at Trianon.


Society for the welfare of the deaf
Absa's Funding allowed the NGO to consolidate the Mauritian Sign Language Development for pre-primary, primary and vocational/secondary school by providing adaptable pedagogical E-Learning materials to 72 children with hearing impairments to remove communication barriers.


Centre solidarité pour une nouvelle Vie
The Absa funding helped the NGO to come up with an educational programme to promote human beings through values and human rights values. The 'project Homme' was implemented to help 80 beneficiaries understand that their inner self enables them to go beyond their present capabilities and take his life in his hands.

We launched the seventh edition of the Colours of Life Awards with a mentorship model whose aim was to enable the transmission of experience from our former participants to other NGOs.


We selected some of the finalists and winners of our previous editions to partner with us for the Colours of Life Awards 2019. To equip and help them fully embrace their role of mentors, we facilitated a three-day training session, which was delivered by Marcia Small, consultant and expert from the Gathering 4.0.

This unique mentorship model was multifaceted; it helped to impart knowledge and skills, foster collaboration between NGOs and support their professionalisation.
On 15 November 2019, the 8 mentors and 7 finalists NGOs were awarded a total of Rs5 million for the advancement of their community projects.

At Absa, we will continue to bring possibilities to life by supporting the community and country.
Learn more about our commitment to Covid 19 support
Distribution of sanitary kits to NGOs
NGOs often face financial crisis and experience several difficulties during their daily operations. The second wave of Covid 19 and the increasing number of positive cases demonstrate the importance of protecting oneself. Confronted by this alarming situation, Absa Mauritius on-boarded the NGO Mouvement Pour L'Autosuffisance Alimentaire to distribute sanitary kits to 1716 beneficiaries of 22 NGOs in the education field in order to ensure the safety of the children as well as the staff members. We have been supporting these NGOs through thermometers, antiseptic soaps and face shields to one specific NGO which helps children with hearing impairment. The aim behind is to ensure that our NGOs have the necessary equipment to face the second wave of Covid 19 without affecting the education of children.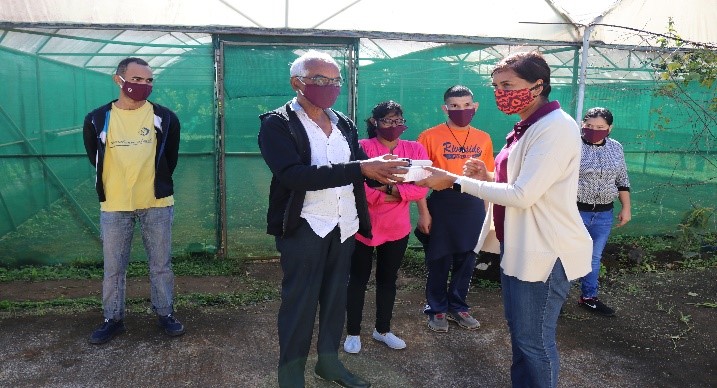 Layering chicken project and organic backyard gardening project to support some 100 families
As a result of the second wave of Covid 19 crisis, many families have found themselves with difficulties such as lack of finance and job losses while the recent floods and the Wakashio oil spill in the south east regions of Mauritius have worsened the living conditions of these families. To build resilience of these families and help them to be independent, Absa Mauritius has financed a project through Mouvement Pour L'Autosuffisance Alimentaire for layering chicken project where we provided the families metal cages, vaccinated laying hens, feeds and vitamins for the realisation of the project. This project will help the identified families to benefit from a source of income through the nurturing and selling of eggs and in the long run, it is expected that these families to further expand their businesses and sell eggs on a larger scale basis.
The impact of the second wave of covid 19 has led to an increase in the prices of several basic commodities while the purchasing power of several families has declined since many of them have lost their jobs. Through the organic backyard gardening, a project funded by Absa Mauritius, these families will have their own organic garden and through the selling of vegetables, they will benefit from a source of revenue. From a cost perspective, these families will no longer have to purchase some vegetables which in turn spare them from spending while consuming and adopting a healthy food production method. Absa has provided these families bacs, compost bags and other equipment for the implementation of the project. This project is expected to help these families to be autonomous while deriving an income.